Screen9 App for iPhone and iPad
Last Updated 2 years ago
The Screen9 App for iPhone and iPad uploads directly from your device's camera and media library.

Login
When first opening the App you will see this login page, use the same username and password as in the Screen9 Console. If you have multiple Screen9 accounts connected to your email you will be able to choose which account to upload to from within the App.
Main Screen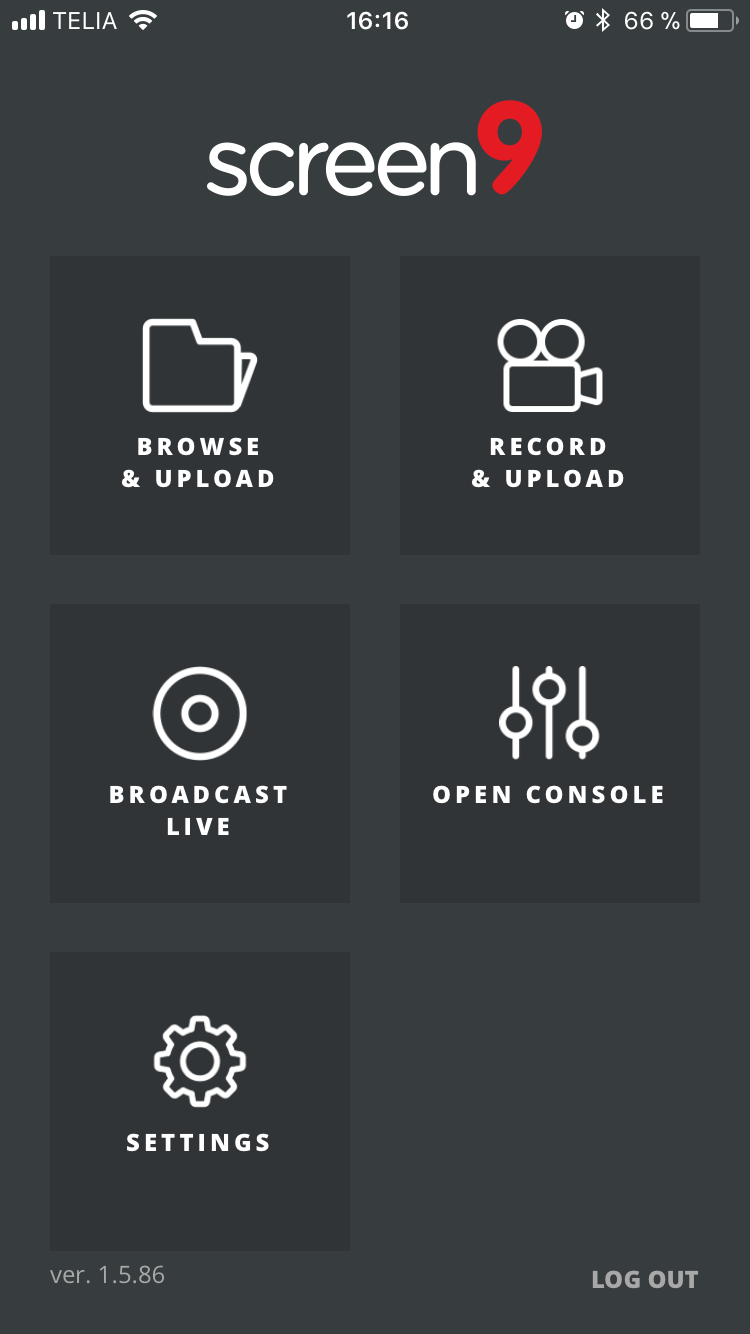 From the Main Screen you have shortcuts to record and upload, broadcast live, browse your phone for local videos to upload, open up the mobile friendly Console and the Apps Settings page.
Details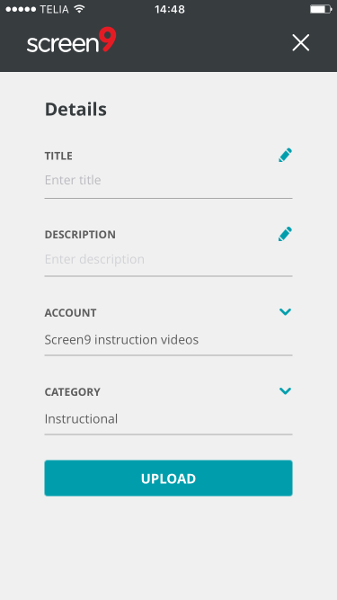 After recording or selecting a video to upload, the Details page is the last step before uploading your video to Screen9.
You can set the Title and Description of your video, if not defined the Title will default to "Video uploaded at yyyy-MM-dd HH:mm:ss" and the Description will be empty.
You can also select which Account and Category you want to upload your video to, default values can be configured under Settings.
Settings
Default Account
If you have access to multiple Screen9 accounts the default account will be preselected for new uploads from the Screen9 App, you will still have the option to choose a different account on the Details page when uploading.
Default Category
Same as with Default Account, the Default Category is the category preselected in the Screen9 App for new uploads.
Default Live Channel
The channel which is used when broadcasting live from the App.
Orientation Live Mode
Choose if you want to broadcast using Landscape or Portrait orientation
Show Logs
Enables a button on the Main Screen to access logs for the App in case you run in to any problems these logs can be used by Screen9 support to identify issues.
Only Upload When on Wi-Fi
If enabled, when an attempt to upload a video without being connected to Wi-Fi is made, the Screen9 App will prompt to enable Wi-Fi or change this setting.
Share to Screen9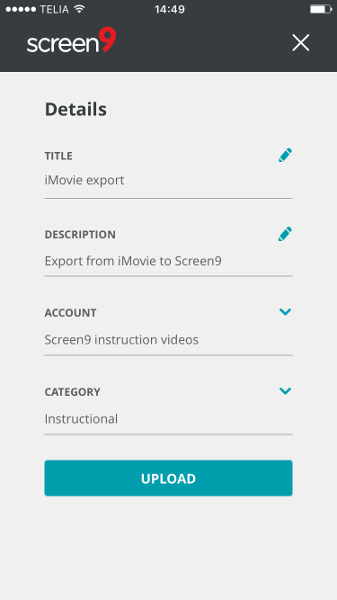 You can share videos directly to the Screen9 App from any other App that allows third party sharing using the share button, this means you can export videos directly to Screen9 from video editing apps like iMovie shown in the example above.

If you have the Screen9 App installed but don't have the Screen9 icon there as shown, scroll to the right and press "More" to enable it.
After pressing the Screen9 share icon you will be taken to the Details page to upload the video.